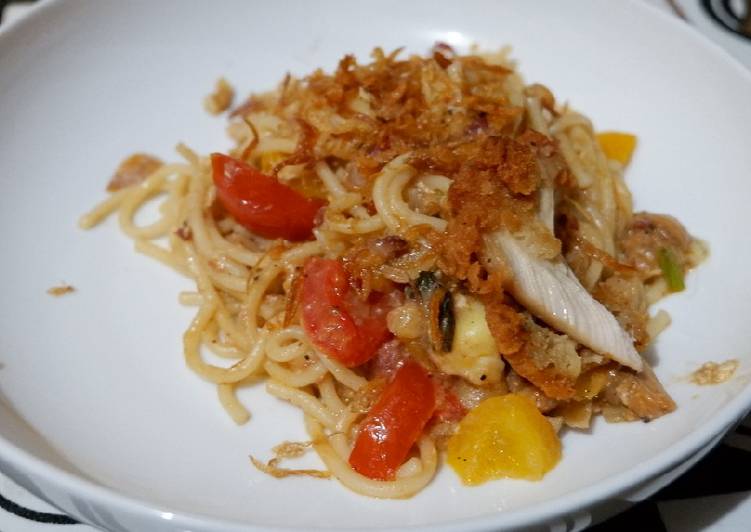 Ingredients
25 gr of mushroom (roughly chopped)
100 gr Spaghetti
50 gr Cornet beef
1 tomato (medium size slice)
1/2 part of paprika (medium size slices)
2 cloves of garlic
1 small leek (medium slice)
2 small celery sticks (roughly chopped)
2 red chili (medium slices)
2 tsp oyster sauce
1/2 tsp of soy sauce
1 tbsp of sugar
1/2 tbsp salt
1 tsp pepper powder
1 tsp non MSG beef powder broth
1 chicken egg
1 unsalted butter
Sucukp water to boil spaghetti
sufficiently grated kraft cheese
Step 1
Cook spaghetti with water, salt to taste, oil to taste and cook until al dente. Remove and drain from the water.
Step 2
Heat unsalted butter and add the onion and garlic slices, cook until fragrant. Then add the sliced ​​paprika and cayenne pepper and stir again.
Step 3
Add the cornet meat and the roughly chopped mushroom mix. Then add the remaining 50 ml spaghetti stew.
Step 4
Enter the spaghetti that has been boiled before and stir until evenly distributed
Step 5
Add oyster sauce, pepper powder, soy sauce, sugar, salt, non MSG powder broth and chicken egg (stir until smooth).
Step 6
Cook until the water seeps in and add chopped leaves and celery. Stir again until evenly distributed and cooked.
Step 7
Food ready to be served